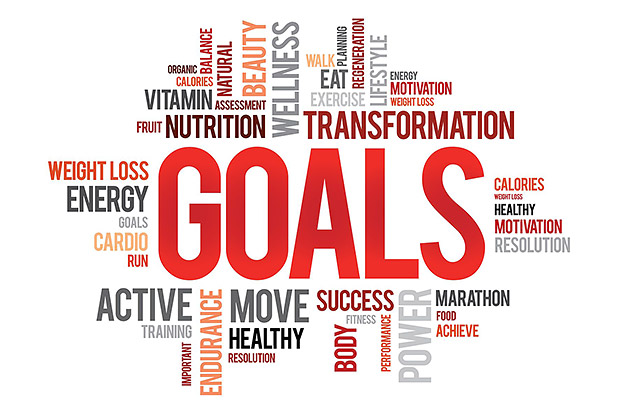 Setting Achievable Goals for The New Year & The New You
How are you assessing your health and fitness goals for the New Year? How confident are you about achieving your goals? Do you have a plan?
These are some important questions that will be asked of you when you embark on your 2020 fitness journey and it's crucial to be able to answer those questions in order for you to find success through this journey. We are here to tell you that you don't have to go through this journey alone. It is absolutely okay to ask for help and seek guidance!
Realistically, many of us fail when we start a new program or plan to achieve our fitness goals because the process takes a lot of trial and error. New habits are being formed and that takes discipline, motivation, and most importantly support from other people! Anyone that is successful through their fitness journey will tell you that they didn't do it alone and they had friends, family, co-workers, and other supporters that cheered them on and helped them stay accountable!
As a tightly- knit fitness community, our staff of Personal Trainers, Group Class Instructors, membership representatives, and even front desk receptionists, believe that emotional and mental support for our members is a key ingredient to their success. While we see our members every day putting the work in the weight room, cardio studios, pool, basketball court, or group classes, sometimes just telling someone "good job" isn't enough to help them achieve their ultimate goals and highlight the main reasons why they are coming to the gym!
There are so many resources and possibilities in a tightly-knit gym community that can help you achieve the goals that didn't quite seem attainable. It takes asking for help, opening your mind to new possibilities, and getting outside of your comfort zone.
Here are some opportunities that you can take advantage of in your local Club/Gym:
Personal Training
Small Group Training
Trying a New Group Exercise Class
Finding an Accountability Buddy
Personal Training
Fitness professionals that provide services like one-on-one coaching and personal training have dedicated their careers to helping people transform their life! Your fellow personal trainer that is available in your local Club/gym is able to provide you with a personalized fitness program based on your fitness goals, fitness interests, limitations that you may have physically and help you eliminate any risk of injury especially when you are using new equipment or trying new exercises! Instead of thinking about a personal trainer as an authoritative figure that is going to command you to exercise a certain way, think of them as a friend who is going to keep you accountable, keep you consistently exercising with an executable plan, and have the ability to help you accomplish goals that you might not be able to achieve on your own.
Small Group Training
Small Group Training is an exciting new class format that focuses on performance-driven training in a small group setting (3-7 participants) and gives you access to a Personal Training Professional that is able to provide personal training guidance to multiple students at once. Typically, Small Group training class formats include specialized equipment that may not be available in your traditional weight room or it could be equipment that you may have not considered incorporating into your workout! Once you try these new pieces of equipment and/or new exercises. you will be hooked! On top of the specialized equipment that you are using in class, you are participating in this class with like-minded people with VERY similar fitness goals. Overall, you enhance your performance based on your fitness goals, increase your fitness knowledge base in each Small Group Training class, and make friends with the other class participants!
New Group Exercise Class
The great thing about Group classes is that there are so many choices for so many different types of fitness enthusiasts! The choices are virtually endless and always evolving. New group classes with specific training tempos, volume, and intensity can determine how you can fill your gaps on your individualized training routine! If you want to increase flexibility and stabilization, Yoga or Pilates can help you achieve your goal and encourage you to stretch with fitness instruction and other like-minded people working towards the same goal! The same example can be made for High Intensity Interval Training! If your routine is lacking the creative and intense edge that you see in high intensity interval training classes, then you can join a class, get your heart rate up, improve your overall performance, and even focus on strength development, speed, agility, quickness, and power training. If you're thinking about taking a Group Exercise class, consider these class formats when you're looking at a class schedule: Cycle/Spin, Strength Conditioning, Power Pump, HIIT, Yoga, Pilates Reformer, Ballet Pilates, Cardio Conditioning, Abs Blast, Mat Pilates, Step Aerobics, and Cardio Dance.
Accountability Buddy
Like we said in the beginning of this article, people setting achievable fitness goals for the New Year don't find success when they do it on their own. Most people find success when they have support from their loved ones and the people they interact with on a daily basis. Although it is important to open up about your fitness journey and the ups and downs that it comes with, sometimes you can run into "negative talk" from the people that you interact with. Unfortunately, there are people that may be your friends, family, or co-workers that don't understand why you are taking measurable steps like working out, eating healthy, and changing daily habits. In these situations, you may be faced with negative feedback, which can be very discouraging when you are still forming these habits. FIND AN ACCOUNTABILITY BUDDY! This buddy can be anyone that shares similar goals or just understands your "why". Having someone that understands why you are trying to improve your life with the new habits that you are forming and your fitness goals can help you stay on track when you don't want to go to the gym, or when the office gets a pizza party and pizza doesn't fit into your meal plan. Inversely, you can be that person's accountability buddy and encourage them to follow in the same steps that you are! Don't limit yourself on accountability buddies! If you have the opportunity to be accountability buddies with 5 people, then nurture those relationships!
Although it can be a daunting first experience with a personal trainer, group class, or new exercise, it is important to remember that these people and resources are here to help you and your success.
We would like to end this article with addressing the MOST IMPORTANT STEP through the process of setting achievable goals, which is setting realistic and attainable goals! It is ideal that you are realistic when you get started on a new fitness routine or revive the one that you have been following without real intention. Once you have your goal, which can be determined with a personal trainer, accountability partner, or a friend/family member, you will have an executable plan to follow and have more potential in reaching your health and fitness goals!
Cheers to the new decade 2020 and achieving our fitness goals!