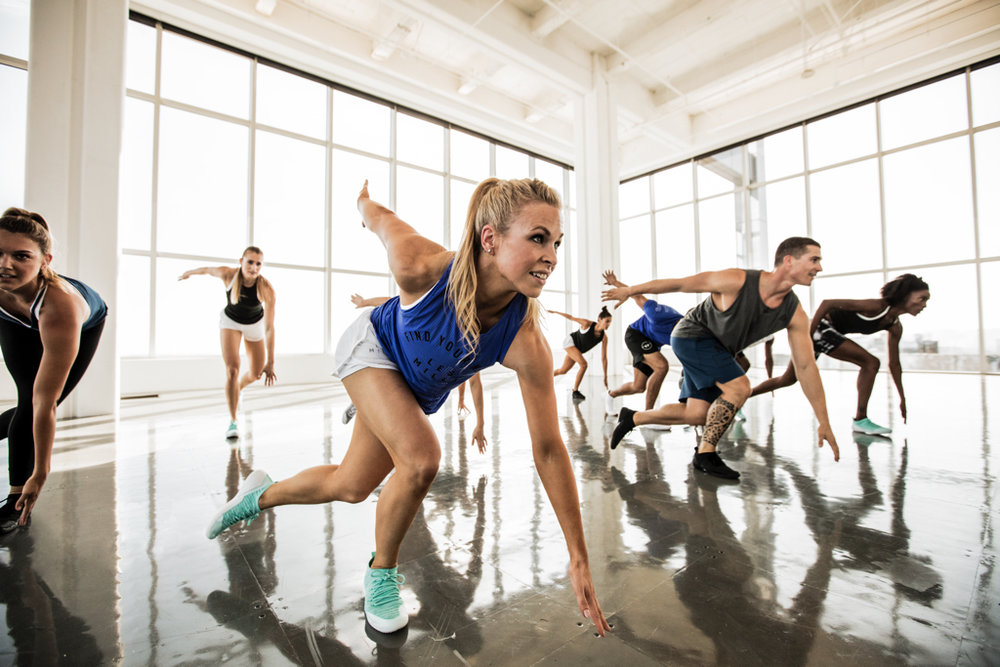 Learn to Love Your Workout
Valentine's Day is just around the corner, and you know what that means: love is in the air. But if your love affair with exercise isn't quite what it used to be, maybe it's time to try and rekindle the romance. If your routine is feeling old and tired and you're having trouble getting motivated, keep reading for a few tips on how to fall in love with your workout again.
Change it up. If you're still going to the same 6 a.m. spin class because that's what you've been doing for the last year, why not try something else? Take the opportunity to work out different muscle groups by trying a new class or classes. For example, a step class is great cardiovascular workout designed to help you gain strength by stepping up and down. The class  incorporates different styles of step offerings including step jam, high and low impact aerobics, weighted resistance and interval training. Check out our class schedule, which can be very helpful when planning out your week of exercise.
Set realistic expectations. If you've never lifted weights before, don't expect to bench press 300 pounds by the end of the week. Likewise, if you've been doing a Step class for years and are just now trying out a Spin class, realize that it may take a few times to get used to the nuances of the class. You can't expect to figure it all out at the first class. You're just setting yourself up for failure if you try to bite off more than you can chew. Don't be afraid to check-in with your fitness instructor before class to introduce your anxieties or any limitations! Capital Athletic Club instructors modify for all fitness levels.
Take a break or scale back your workouts. Burnout is a real thing. If you just can't get motivated, consider whether maybe you've been working out too much or too hard. It's possible that over-training may be impacting your desire to go to the gym. If you don't have the time or the enthusiasm to spend an hour or more at the gym, scale back the workout to 20 or 30 minutes but raise the intensity. 
Listen to music. There's nothing like some tunes to help alleviate boredom. But did you know that music can also help improve the quality of your workout? Studies have shown that music with a strong, steady beat that you can pedal or run to tends to feel more satisfying and just might inspire you to exercise more. Music with catchy lyrics may inspire you to exercise longer or work harder.  
Bring a buddy. Maybe you're having trouble even getting to the gym, let alone trying your hardest once you get there? Find a friend who is committed to health and get him/her to work out with you. Not only will it be a great opportunity to socialize, but your friend will hold you accountable, and perhaps even push you to work a little bit harder. It doesn't hurt to socialize with other members of your Club! Making friends where you workout will make you look forward to getting a workout in and saying "what's up" to your gym buddy!
Work with a personal trainer.  In addition to helping you reach your fitness goals, a personal trainer can offer encouragement and keep you going in the right direction. Instead of wandering aimlessly, you'll be able to maximize your time at the gym and hit the machines with a purpose. If there are any questions about how to use the equipment, a personal trainer can help answer them. Personal trainers will also be able to work around your schedule. So if you don't love getting up early and working out, don't let that be a reason why you're not loving your workout.  Schedule a time that works best for you. And don't forget, Capital Athletic Club members receive 3 one-hour sessions and 4 free sessions per year.
Set goals. Setting fitness goals, no matter how small they might be, gives you the opportunity to push yourself as you strive to work harder. Think about how setting a personal best for the mile, or beating your past record for pull-ups. Maybe you want to set a goal for finishing a 500-yard swim in a certain amount of time.
Reward yourself. Once you've reached those goals, it's time to celebrate those achievements. Reward yourself with a spa day in the Club jacuzzi, sauna,  and steam room! With an esthetician and massage therapists on site, you won't even have to leave the gym for a little well-deserved pampering.  Reward can come in many forms, even something as simple as a glass of wine in the Cafe. Just make sure you're not overindulging and it won't be detrimental to your health.

Keep track of your workouts. By recording your progress you'll be able to see how your training is coming along. Once you start seeing a pattern, along with the results, you won't want to stop working out.