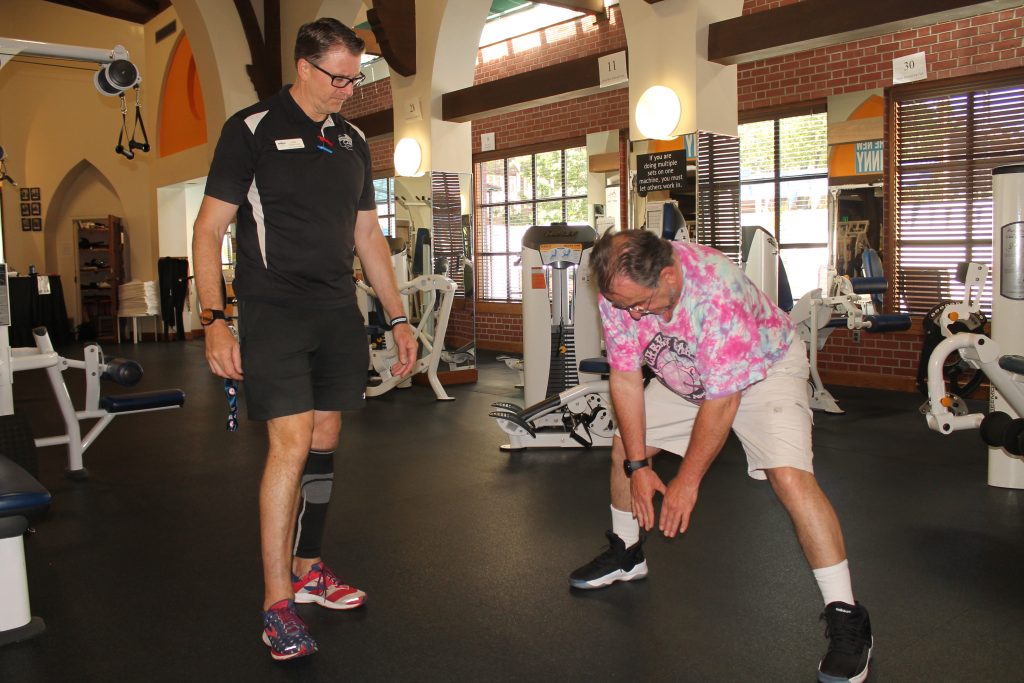 How A Personal Trainer Can Transform Your Fitness Lifestyle
With each New Year, our lives are filled with more and more demands on our time.  Family, job and educational obligations steal increasing portions of our most precious resource—TIME.  By visiting The Club, you are showing a commitment to your health and well-being.  You hope each trip makes you more efficient with the rest of your time.  You try to make the most of resources to help your workouts, but far too often you neglect one of the greatest and most obvious opportunities at your disposal—CAC's Training Staff.
Our multi-faceted Personal Training Team has decades of experience guiding all levels of fitness programming.  Their scope of skills and understanding of how to help you grow stronger, more durable and more confident in your everyday life is the most overlooked part of your membership.  You see them every day but too often you become comfortable in your own routine and they become part of the furnishings—easily overlooked and often under-utilized.
Simply put, not taking advantage of trainer's expertise who are most likely to help you change your life for the better can limit your overall results.  So why not get the most of your time at The Club by putting the Training Staff in your corner, helping you build the best possible you.
The CAC Training Staff will make it possible for you to get the most out of each visit by:
Improving Form and Technique
Increasing Exercise Variety and Specificity
Providing Education to Live a Healthier Lifestyle
Keeping you Accountable to Reach your Goals
Empowering You
Form & Technique: Exercise techniques are full of subtleties and often practiced incorrectly.  There is a thin line that separates elegant goal-oriented movements producing new strength, endurance and confidence from futile movement combinations that are, at best, ineffective, or at worst, dangerous.  Having a CAC trainer to adjust your form and technique for safety and biomechanical efficiency can save you many hours over the course of the year—Time that can be put to better use elsewhere in your busy life.
Exercise Variety and Specificity: Without challenge, there is no change. The human body thrives on challenge and when challenges diminish our body can go static and stagnant. If you seek positive changes in your life, seek challenges in your workouts.  With our Training Staff guiding you, you'll have a near-endless supply of exercises.  Whether for a specific goal, activity or injury or just to shake up your routine, the variety of exercises (with progressions and regressions based on fitness level) overflows and our Training staff stands ready to challenge your body with its diversity.
Education & Accoutability: By acquiring this knowledge through our Training Staff, you rid yourself of inefficiencies that make coming to the gym an exercise in the mundane.  If Knowledge is truly Power, then body knowledge is the truest and most intimate power–connecting your body with its roots deep in your soul.  A once-intimidating forum like the weight room or a group exercise class becomes an empowering conquest that brings a new confidence and motivation, a yearning to learn more and do more for yourself.
In the end, ask yourself, why am I not using more of the services of CAC's Training Staff?
If your reason comes from fear or uncertainty, then we encourage you to schedule a complimentary session with a trainer with an open mind on how a client-trainer relationship can completely transform your workout routine and overall mindset of fitness.

CAC Trainers Pictured Left to Right: Sabin Morris, John O'Sullivan, Tyler Martin, Bruce Coolidge, Jeanette Link-Dolgovin, Christian Vega.
Here are some of the lives that our trainers have touched and transformed here at The Club:
"I was a former college athlete, and all I ever wanted to do was get back to feeling like I could take on the world again. Since college I've had numerous trainers and I felt like none of them ever customized things to me. John O'Sullivan has customized workouts both physically and mentally for his clients. He motivates me to be there every day and he motivates me to do best. Working out with him only three days a week has transformed my life personally and professionally."

-CAC Member, Personal Training Client: Parker J.

I must confess my love for Small Group Training. I've taken "Balance, Core & More" with Bruce Coolidge for several rounds and the transformation is quite remarkable. I notice myself moving with a comfort and confidence I haven't felt in ages. Highest recommendation.

-CAC Member, Small Group Training Client: Laurie T.

Do I want to endorse my personal trainer Jeanette Dolgovin? You bet I do! I've worked with Jeanette for over 8 years. During that time she and I have conquered my inner slacker! Jeanette has helped me – firmly but supportively – to dramatically increase my general physical fitness, to understand how to work out correctly, effectively and safely AND to accomplish all of this in workouts that don't take more time than I'm willing to give! Finally let me stress that Jeanette is also very friendly and best of all lots of fun to be with. If you have to work out and of course we all do, Jeanette is the way to go!

-CAC Member, Personal Training Client: Fran E.