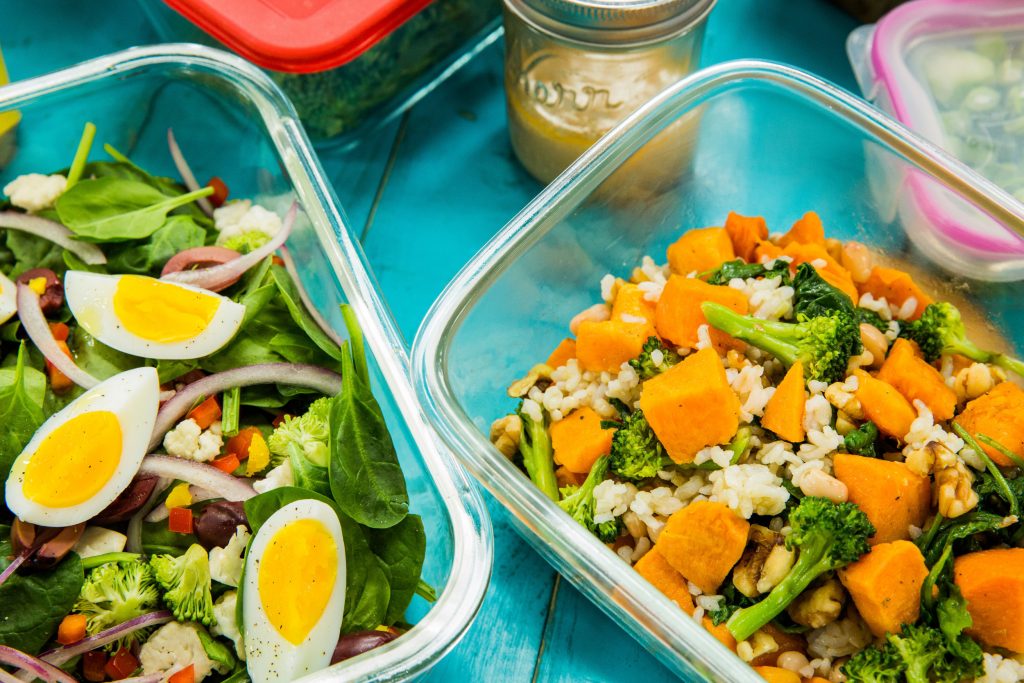 Beginner's Guide to Meal-Prepping: The Five W's
Do you struggle with nutrition and eating daily healthy meals? If your answer is YES, then this article will help you improve your daily and weekly nutrition habits. Although most of us lead very different lives, we all have the same aspects of life in common. Many of us struggle to eat healthy on a daily-basis, drink enough water, exercise at least 30 minutes per day, and manage our time wisely for a well-balanced life. As most people work 8-10 hours 4-5 days per week, we are only left with so much time in the day. With a lack of time and energy to prepare for our meals and exercise plans, it is much easier to fall off the wagon. Unfortunately, for most of us, this scheduling struggle will not be changing anytime soon, so we are here today to HELP YOU come up with a personalized game-plan for your weekly healthy habits and how you can incorporate these healthy habits into your daily routine.
The subject of this article is to discuss Meal Prepping for Beginners as well as the Five W's: What is Meal Prepping? Why should I meal prep? When should I meal prep based on my schedule? Where can I meal prep? How can I meal prep efficiently with healthy nutrient-dense foods?
Let's start out with a quick lesson on what Meal Preparation is and how it is used to improve time efficiency for busy individuals. Meal preparation, otherwise known as meal-prepping, has become a simple daily/weekly task that individuals prepare their planned meals based off their desired eating habits. Many beginning meal-preppers will cook prepared meals for the entire week on Sunday (or your day off) with a large quantity of food to be separated and measured into Tupperware/glassware that is stored in the fridge and easy to grab each day you won't be home or have time to prepare a meal. For others, meal prepping can be done every day or every other day. Sometimes, you can even split your weeks into due official days of meal prepping. Many meal preppers base their foods on their daily Macro nutrient Count that can be measured through many free fitness & nutrition apps.
The next question or Meal preparation is "Why?" Well, put very simply, when you are preparing your meals, you can plan your foods more meticulously and not have to worry about coming up with meals on-the-fly, which can lead to added stress and poor food choices. With healthy prepared meals, you are more likely to develop healthy habits that are oriented to your health & fitness goals. Practicing even small lifestyle changes can promote healthier habits and over time can help you remove any unhealthy habits, like under-eating, overeating nutrient-deficient foods, lack of exercise, smoking, or not drinking enough water.
This next question is a very important one because this will be very specific to the individual. That question is, "When should I meal prep?" Everyone has a different schedule and different priorities in their schedule. First, you can determine what days you have off and what days allow for more time in your daily routine to cook food. Meal preparation relies on having the foods that will promote healthy, well-balanced eating and having multiple options, so that you have a variety of foods to make throughout the week. If you have time to prepare meals every day, then you can prepare meals in the morning or evening, whichever allows more time. If you only have time every few days to prepare a few days of meals, then find your time and try to be efficient with the food that you have chosen. If you only have 1-2 days off work, then plan 1-3 hours to prepare your weekly meals on those days. As you continue to meal prep, you will develop a routine of foods that you enjoy, grocery shopping trips, and days that you regularly cook for your meals.
Everyone thinks about the kitchen immediately when they are asked "where" meal preparation is mainly taking place. This answer is very accurate, but everyone forgets "where" you need to get your food; the grocery store! Within this question of, "Where can I meal prep?", you need to ask yourself, "How much time do I have to shop and how can I be efficient with my time?" Luckily, many community grocery stores and Amazon are making it easier than ever to shop for groceries while NOT having to go inside the store. Many services delivering from your local grocery store or their own product include Shipt, InstaCart, and AmazonFresh and these services allow you to shop for your groceries online while you are at work or home. For most of us that are always tempted by snacks at the grocery store can avoid those cravings while our online shopping may be more productive. If you aren't interested in delivery because you may not be home, you can still use services like these to order your groceries and pick-up in the pick-up zone outside your local store to save some much-needed home time.
Lastly, but most importantly, "How can I meal prep efficiently with healthy nutrient-dense foods to help me reach my goals?" As much as we want to say that it will be easy, it won't be in the beginning. With all good things, this will take time to perfect based on the individual, but we can promise that this will save you money from eating-out and help you start healthier habits to ultimately reach your health & fitness goals. You will have to make sure you have your materials on hand for meal preparation; Tupperware/glassware, Ziploc bags, utensils, and supplement storage (if needed). Once you have your materials, you can start planning your Food List, daily water intake, and supplementation. The goal is to focus on three-four Macro nutrients that you are comfortable with eating regularly in each meal:
Protein: Lean Chicken, Ground Turkey, Beef, Fish (rich in Omega 3's), Tofu, Shrimp, Eggs, Greek Yogurt, to name a few.
Carbohydrate: Rice, Sweet Potato, Potato, Quinoa, Whole Wheat Pasta, Quick Oats, Whole Wheat Bread, Bananas, Strawberries, Apples, etc.
Fats/Lipids: Olive Oil, Avocado, Almonds, Peanuts, Cashews, Pistachios, Cheese, Fatty Fish (Salmon).
Veggie: Broccoli, Green Beans, Cauliflower, Peppers, Celery, Squash, Asparagus, Spinach, Lettuce, Kale, Brussel Sprouts, etc.
Don't be afraid to get creative and use seasoning! There is nothing worse than eating bland food and most seasonings/spices are zero calorie!
As you are soaking this all in, you will have to be patient with the process and focus on the overall goal. There will be days when you are too tired to cook food and go with the unhealthy option or you won't prioritize your goals over your cravings, but one slip-up does NOT have to turn into a downward spiral of unhealthy habits again.
The key to success is consistency and mental strength. The fit people that you see are not perfect and they slip-up as well. The major difference is that when they slip-up they allow themselves to refocus and get right back on track and working towards their goals. Your situation does not have to be any different and if you adopt these priorities of always having healthy meals on hand, one day you can be proud improving your lifestyle and reaching your fitness goals!